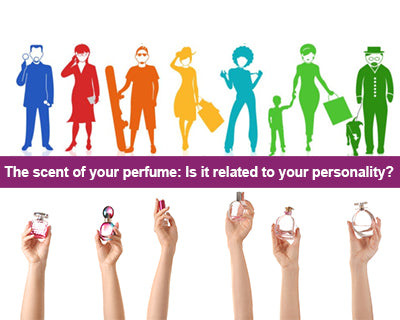 The scent of your perfume: Is it related to your personality?
THE SCENT OF YOUR PERFUME: IS IT RELATED TO YOUR PERSONALITY?
By:  Tina Perez
Imagine this scenario: you are going out on a first date You are hoping to bring this initial encounter will elevate to the next level. Perhaps, you can see wedding bells in the horizon. You spent hours in fixing your hair and putting on your makeup. You are now wearing your little black dress with killer red stilettos. To complete the look, you spray on your favorite perfume. Remember this: One is not fully dressed without a nice perfume!
People are truly charmed with a nice scent or fragrance. If you want to impress someone, or influence people in a positive way, you need the right fragrance. Why? Because fragrance plays an important role in forming one's personality. You want your boss to like your latest proposal, your fragrance must exude power, confidence and positivity.
Do you know why you are attracted on a particular fragrance? Are you someone who has never worn a perfume before and is on the look out for the right fragrance for your personality and mindset? Or you are someone who cannot decide whether to go for fruity, floral, oriental or earthy?  Read on to know what perfume go perfectly well with your personality.
FLORAL:
The most popular scent option. Floral perfumes contain either one scent of a certain flower like rose, lavender or jasmine or a mixture of several flower varieties.
Rose: people who love this scent are believed to be introspective and very sensitive to what others feel. They are cautious and considerate and will never dare hurt the feelings of others. They need time to reflect on things before they arrive on certain decisions.
Lavender: if you love this scent chances are you are surrounded by numerous friends. People are attracted to you and they love to be with you. You are thoughtful, trustworthy and will never turn your back on friends.
Jasmine: if you are attracted to this scent, chances are you are very adventurous and you are the "life of the party". YOLO is your mantra (You Only Live Once). You are spontaneous and don't care what other people say about your dress, shoes or behavior!
WOODY:
Visit a forest and you will get to smell the woody scent. Think pine, sandalwood or cedar – scents that are earthy and musky. If you liked these types of scents, you are a perfectionist. You spend your life honing skills and you don't easily give up. The result – you excel in your chosen path. But you also have the tendency to be self critical. Just breathe in and relax a little
FRUITY:
Are you attracted to the sweet smell of fruits such as melon, strawberry, peach or raspberry. You may think the sweetness translates to your personality, but on the contrary, people who love this scent are believed to be irritable, cranky and pessimistic. People see you as very moody. Tone down a bit if you don't want to create enemies.
CITRUS:
Hooked on the scent of orange, lemon, sweet lime and tangerine? Then you love the citrus smell that exudes all day freshness. You are strong minded, ambitious, born leaders, dominating, definitely a go-getter!  Your agressiveness is your weapon to achieve things.
ORIENTAL:
Also known as amber fragrances that are described as unique, warm and sensual. They get their richness from substances like musk, vanilla, precious woods and certain spices. If you gravitate to this scent, you enjoy being bold. Making a statement is your daily agenda.
This article hopes that you now understand a portion of your personality based on your choice of scents. Knowing that personality and scent choice is related, it will also help you choose the right perfume for your friends and loved ones.
After all, the true access to your innermost personality may just be a spritz of your signature perfume.