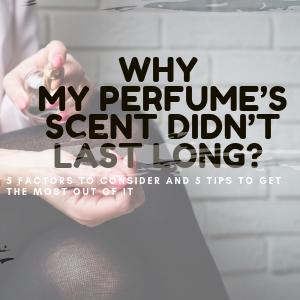 Why my perfume's scent didn't last long?
WHY MY PERFUME'S SCENT DIDN'T LAST LONG? 5 FACTORS TO CONSIDER AND 5 TIPS TO GET THE MOST OUT OF IT
Written By: Laira C. Pelesco
We all love perfumes.It makes us happy and pampered. In times of distress, it gives us comfort and relaxation. Whenever I sprit my favorite one and smelled it, instantly I feel good and alive as if I can do anything. Some sprinkle of our fragrances makes us feel energetic. Most of the time perfumes complement and complete our own wardrobe statement. We always have it before we go somewhere else, right?
Truly, perfumes ignite emotions, not only to its wearer, but also to everyone who will smell it. Since perfumes creates an initial and lasting impression of us to other people, we wanted it to last longer – good if our perfume's scent will last for half of a day, but great if it can last for a whole day or more!
Perfumes completes our wardrobe statement
There is only one question that always bothering us – "How can I make my perfume last longer?" This dilemma stirs a lot of issues and misconceptions about our beloved perfumes. One of them is, people are thinking that if their perfume's scent last for only an hour or so then they purchased a fake one. But is this always the case? To help you out, there are many factors that affect's perfume's performance. Let take a look at it closer at first before you blame your original signature scents, out handedly.
5 FACTORS THAT AFFECT PERFUME'S STAYING POWER
CLIMATE

- Here in the Philippines it's always on heat. Hot temperature affects perfumes in such a way that it affects all liquids. It dries them out. Evaporation takes quickly because of the hot climate in tropical countries like ours. So expect that your perfume will not last any longer for this reason. If you are in other places on Earth that is cold enough then you are a lucky one – your perfume will stay longer on you.
Hot climate can affect perfume's scent longevity
YOUR BODY'S OWN CHEMISTRY / ACIDITY

– You, of all people, contributes to your perfume's performance. And you didn't even know it. Because we have of our own unique body's chemistry, each of us has its own unique reactions towards perfumes. If you are acidic and do not have a balanced PH level on your skin, your perfume cannot stay longer on your body. High acidity on a human body can alter the scent of perfumes thus making it ineffective – you cannot even smell it. If you have a dry skin, your perfume will not stay for long because your body has less or no moisture at all to hold on perfume together. If a person is taking medications, is pregnant, on diet, likes spicy foods or is smoking – it will directly affect perfume's scent and staying power. So better check yourself first before pointing your fingers to your perfume as the culprit.
STORING YOUR PERFUMES IN WRONG PLACES

– If you keep your stash of perfumes in a room full of windows and where the sun directly shines to it, then you're harming the life of your beloved perfumes. Light and heat can lessen the scent quality of perfumes. Putting it in warm parts of your house is not a good choice. Maybe that's the reason why your perfumes didn't work well with you.
YOUR LOCATION IS A FACTOR

– If you work outside the office or you are always on the field, then your perfume will not last for long. Why? Because wind, sun and pollution could easily remove it on your body. Though sweat can help some perfume variants to reactivate its scents (some perfumes with summery scents such as citrus, orange or grass works well when we perspire), perspiration could also bring more damage to perfume's unique scent (musk, wood or blackcurrant leaf leaves a foul smell when it blends with sweat). And we do know better, right? The moment we perspire we automatically rub our sweat with a handkerchief, thus unknowingly wiping our own perfumes as well!
OUR OWN HABITS

– We Filipinos tend to be over self-conscious that we always check if we still have our favorite scents in our bodies – until we couldn't smell it anymore – because we are already immune with it. Our nose simply cannot distinct the perfume at all because it is already used to it. Or maybe you have other habits that can contribute to your problem – like you always wash your hands and face, thus you washing away also your perfume. Or you always use hand sanitizer or wet wipes up to your wrists where you spray your perfumes, and wiping it away also. You are the only one who knows your habits, so you better analyze it first and make necessary changes.
After we learned that there are some really true factors affecting the staying power of perfumes, the ultimate question still lingers – "how can I make my perfume last longer?". Here are some useful tips and perfume hacks to give your favorite scent a lasting life, not only for a day but even for a decade or more.
USEFUL TIPS AND PERFUME HACKS
STACK YOUR PERFUMES ON THE RIGHT PLACE

– Storing your precious perfumes in the right spot of your house or your room will make a big impact on your perfume's life quality. Place it in dark and cool corner of your cabinet where the temperature is stable and not easily changes. I personally do this to my scent collections and they lasted a decade now! Yes 10 years or more! I didn't throw them away because I believe perfumes cannot easily expire when you keep it in the right place, and I am right with that! Also, I am keeping some drops of it so I can smell it whenever I feel to, somehow reminiscing past events of my life through scents (yes, perfumes makes good memories). So what are you waiting for? Keep your perfume bottles in your treasure boxes because they are surely a worth keeping valuables of our lives. Not to mention their prices!
Store your perfumes in cool, dark and dry cabinets
SPRITZ YOUR PERFUME AFTER TAKING A BATH

– Your skin is more hydrated and "moisture-full" after taking a bath, it's the best time to spray your scents and have it locked up on your skin pores. Don't belittle the power of water to your skin. It will help your perfume cling longer on you! You could even spray it on your hair if you like! A tip: Spray some in the air then walk right through it; it's like taking a perfume shower sprinkle! Not too powerful but will surely give a beautiful scent all over you.
Some sprinkle of your perfume after bath would make a big difference
SPRAY IT ON YOUR BODY'S WARMEST POINTS

– If you only put perfume on your wrist then you are missing something important my friend. There are other parts of the body where you can spray it – on your body's warmest points – behind your ears, between your chest, on your armpits, on your belly, elbow crooks, your neck nape and your mid back. You could even spray on your ankles or behind your knees! But don't spray your perfume on these parts all at once, okay? Just choose two to four pulse points and you're good to go! Remember less is more!
Spritz your pefume in your hottest body points
LAYER YOUR FRAGRANCE

– Are you familiar with layering? It means you will use different body care products with the same scent, thus creating a lasting impact and scent longevity to your perfume! Try to use a bath gel, lotion, powder, roll on, face cream or even a massage oil with the same fragrance and you will see the dynamic effect – your lovable scent will last on you for a day!
Create your own perfume layering
RE-APPLY YOUR PERFUME

– When everything has been said and done you can just easily re-apply your perfume anytime of the day. You can do this by sprinkling your perfume to a cotton ball, rubbing it on your pulse points and putting the cotton ball inside your chest undergarment for you to consume the scent also and getting the best value out of it (of course we don't want to waste those precious scents inside the cotton ball, so we will also use it). Another tip is you can also put unscented lotion first to your pulse points then spray your perfume there, it will keep the scent longer; just don't wash it with water.
So there you have it, I hope with these insights you could now understand why your perfumes and fragrances don't last too long as you expected it to be. There are so many tips out there but for now I hope these useful tips of mine could answer your perfume issues and help you manage your expectations to your precious perfumes. Don't fret hurriedly, with more valuable knowledge and helpful ideas you could overcome your perfume problems and make it a worthwhile experience for you and for everyone!
You can extend the life of your precious scents!
About the author: Laira is a fulltime mom to her two daughters, a Pinay mommy blogger and a content writer. One of her scent favorites is Clinique Happy. She has a website for her blog, www.truthsoflai.com where she writes useful articles about life's important facets like motherhood, travelling and finance.